The SinterCast Sampling Cup is the most accurate thermal analysis device in the world. It is entirely fabricated from drawn and stamped steel sheet and contains two reusable thermocouples to allow for the simulation of magnesium fading. It has been the subject of five patents related to its design and an additional seven patents related to solidification behaviour and thermal analysis.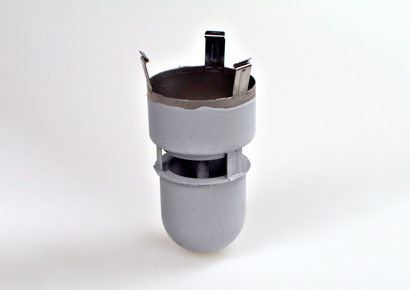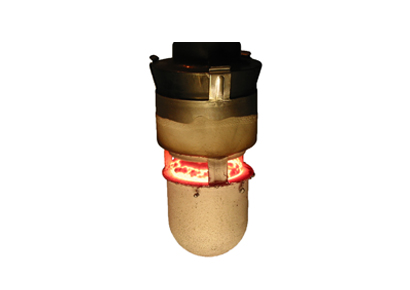 Steel Fabrication
The steel fabrication ensures accurate dimensional tolerances for consistent cooling conditions.
Representative Iron
Immersion sampling prevents metal oxidation during filling and ensures that the iron in the Sampling Cup is the same as the iron in the ladle. Immersion sampling also pre-heats the Sampling Cup to prevent chill solidification.
Constant Volume
The overflow design of the Sampling Cup allows easy sampling and ensures constant iron volume for reproducible cooling conditions.
Mg-fade Simulation
The reactive coating on the Sampling Cup consumes active magnesium at the bottom of the cup to simulate magnesium fading.  This ensures control of the graphite microstructure from the start until the end of casting.
Reusable Thermocouple Pair

Seam-welded thermocouples ensure that the two thermocouples are accurately positioned for each analysis. The reusable Thermocouple Pair can be used for up to 200 cycles with no loss of accuracy. All thermocouples are temperature-tested and thermally cycled prior to delivery.
Quick Change
The custom-built Thermocouple holder allows the Thermocouple Pair to be replaced in less than one minute.
Traceability
Barcode labelling of each Thermocouple Pair allows the thermocouple off-set (calibration factor) to be compensated for in each analysis. The barcode labelling also provides traceability for QS 9000 requirements.
Process Security
Every thermal analysis measurement is preceded by six separate 'go/no-go'electro-mechanical and software checks to confirm the measurement electronics, the initial sampling temperature, sample volume, cooling rate, and the precise location of the Thermocouples. These critical checks ensure consistent sampling conditions that ultimately result in accurate analyses.