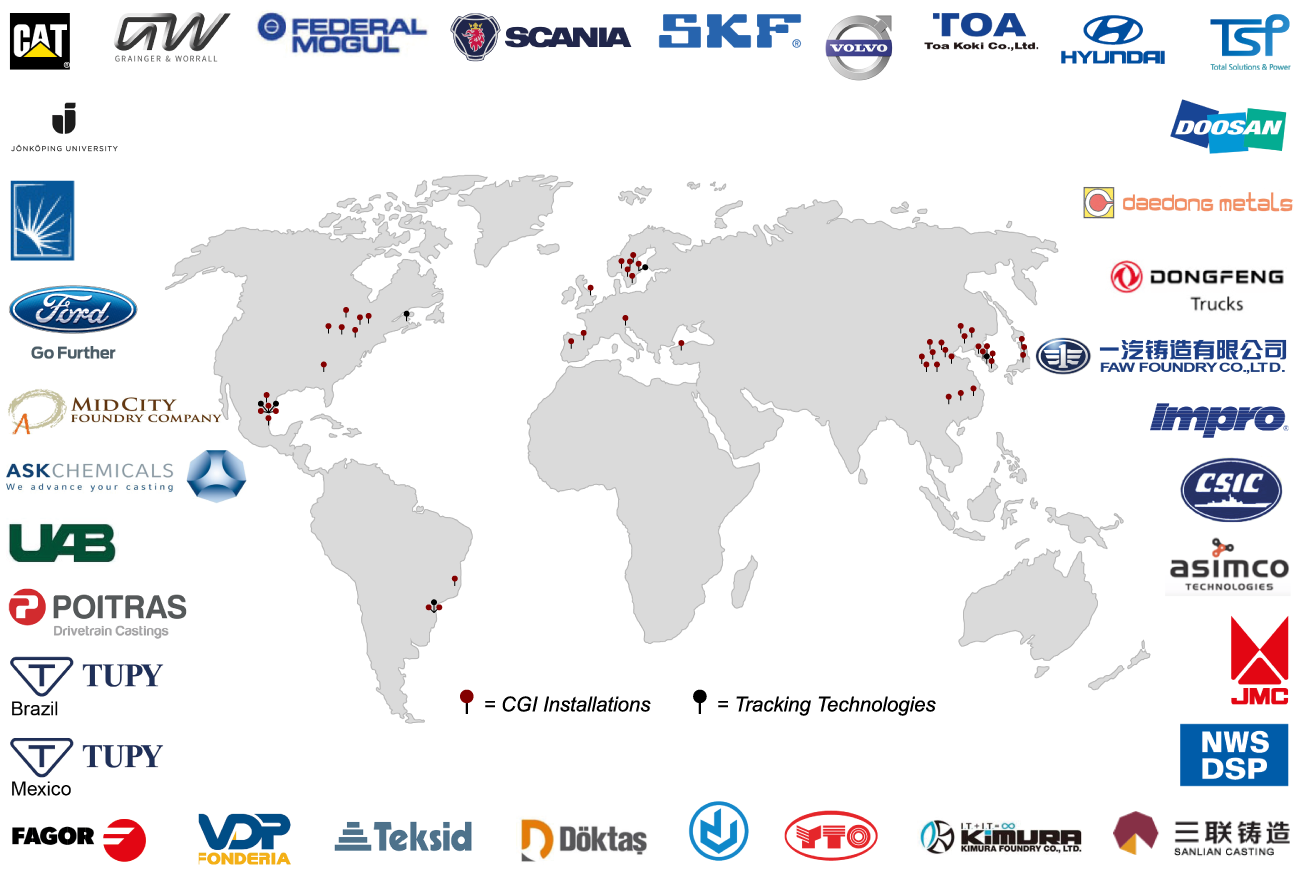 SinterCast provides process control technology for CGI series production, product development and R&D activities. The SinterCast technology is currently used in 54 installations, in 14 countries, operating in 11 different languages.
Automated System Installations
ASIMCO International, China

Caterpillar, USA

Daedong Metals, Korea

Dashiang Precision (2), China

Döktas, Turkey

Fagor Tafalla, Spain

FAW Changchun, China

Federal Mogul, Sweden

Hyundai Jeonju, Korea

Impro Mexico, Mexico

Scania Classic Foundry, Sweden

Scania New Foundry, Sweden

SKF Mekan, Sweden

Teksid Monclova, Mexico

Tupy Betim, Brazil

Tupy Joinville Line E0, Brazil

Tupy Joinville Line C4, Brazil

Tupy Ramos, Mexico

Tupy Saltillo Line 3, Mexico

Tupy Saltillo Line 4, Mexico

VDP, Italy

Volvo, Sweden

Zhongding Power, China
Mini-System Installations
ASK Chemicals, USA
Case Western Reserve, USA
CSIC, China
Dongfeng, China
Doosan Infracore (2), Korea
FAW Changchun – Research, China
FAW Wuxi, China
Ford Casting Development, USA
Grainger & Worrall, China
Grainger & Worrall, UK
Impro China, China
Jiangling Motors, China
Jönköping University, Sweden
Kimura Japan, Japan
Kimura USA, USA
Mid-City Foundry, USA
Shanxi Sanlian, China
Toa Koki, Japan
Total Solutions & Power, Korea
Tupy Funfrap, Portugal
Undisclosed, Japan
University of Alabama, USA
YTO Group, China
Tracking Technologies
Poitras, Canada (Ladle Tracker)
Scania Classic, Sweden (Cast Tracker)
Tupy Joinville, Brazil (Ladle Tracker)
Tupy Saltillo Line 3, Mexico (Ladle Tracker)
Tupy Saltillo Line 3, Mexico (Cast Tracker)
Hyundai, Korea (Ladle Tracker)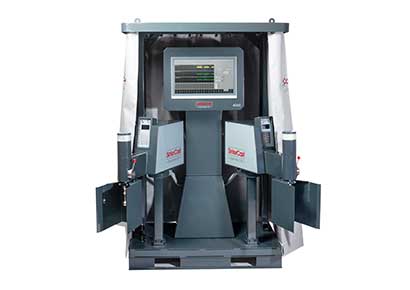 Automated System 4000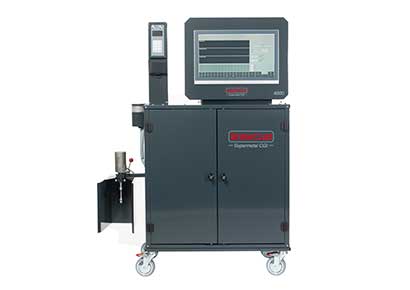 Mini-System 4000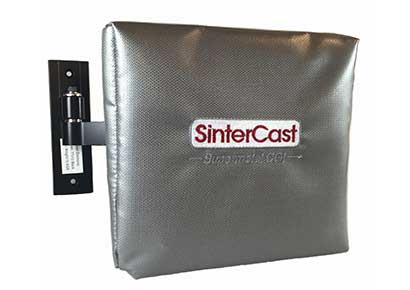 SinterCast Tracking Technologies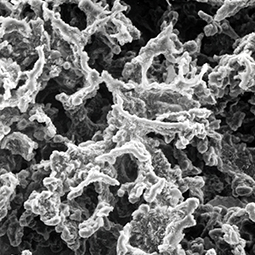 SinterCast is the world's leading supplier of process control technology for the reliable high volume production of Compacted Graphite Iron (CGI). With at least 75% higher tensile strength, 45% higher stiffness and approximately double the fatigue strength of conventional grey cast iron and aluminium, CGI allows engine designers to improve performance, fuel economy and durability while reducing engine size, weight, noise and emissions. The SinterCast technology is used for the high volume production of CGI components ranging from 2.7 kg to 9 tonnes, all using the same proven process control technology. As a specialist supplier of precision measurement and process control solutions to the metals industry, SinterCast also supplies a suite of tracking technologies, including the SinterCast Ladle Tracker® and SinterCast Cast Tracker®, to improve process control, productivity and traceability in a variety of applications. With 54 installations in 14 countries, SinterCast is a publicly traded company, quoted on the Nasdaq Stockholm stock exchange (SINT).